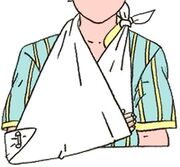 Een mitella wordt gebruikt in de EHBO. Een mitella wordt gemaakt van een driekante (ook wel: driehoekige) doek die dichtgeknoopt (aan de gezonde zijde) om de nek gehangen wordt. De mitella heeft als doel rust en steun te geven bij een blessure of een verwonding (bijvoorbeeld kneuzing, botbreuk, verstuiking, (snij)wond) aan:
een onderarm
een pols
een hand
Een driekante doek is meestal gemaakt van katoen of vlieseline en heeft meestal een formaat van 96 x 96 x 136 cm.
Als de bovenarm of schouder geblesseerd of verwond is, wordt géén mitella maar een brede das (of voor kinderen de smalle das) gebruikt, die wordt gevouwen van dezelfde driekante doek.